As one part of the ACCESS Summer School 2023, our partner University of Ibadan from Nigeria is hosting an Employability Conference from 30th of July – 1st of August 2023 in the city of Abuja. The conference is led under the topic "Cultivating New Frontiers in Employability Research for Skills and Career Enhancement" and will include activities like Keynote speeches and practical experience sharing among the participants.
THE CALL FOR PAPERS IS OPEN NOW.
The application deadline is at the end of 15th of March 2023.
Abstracts are invited from interested participants on topics within the context of the conference theme (CULTIVATING NEW FRONTIERS IN EMPLOYABILITY RESEARCH FOR SKILLS AND CAREER ENHANCEMENT), and issues relating to how graduates in Africa search and find work, build up their careers, and seek to develop and test innovative concepts for employability promotion at Higher Education Institutes (HEIs) in Africa.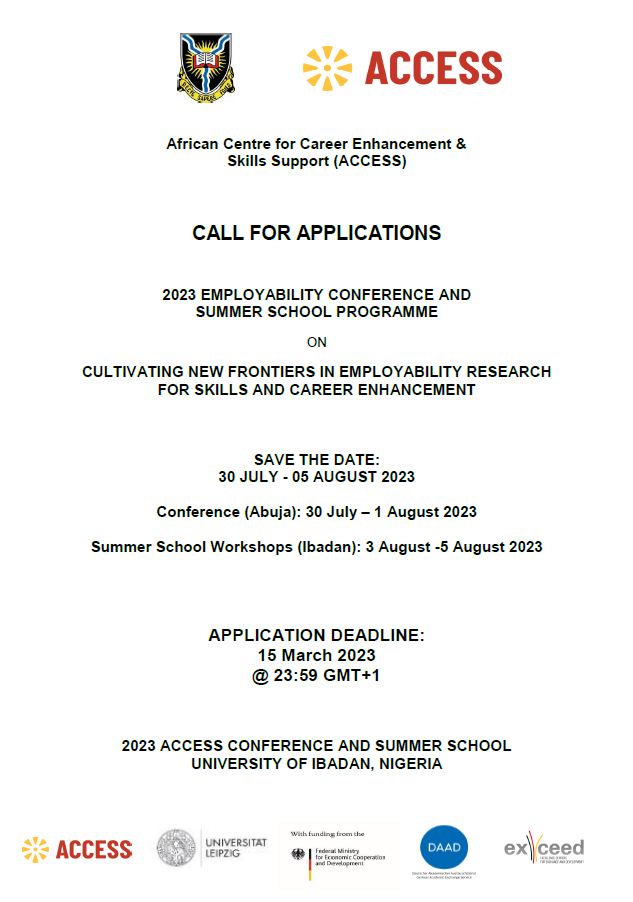 We welcome abstracts of papers on Employability Research relating to topics including – but not limited to – the following:
What are the functionalities and experiences with digital (coaching) platforms?
How can students be best supported in developing job-relevant capabilities that rely more on methodology and key skills than on academic contents?
How can job-relevant learning approaches be integrated into all disciplines and study programmes (curricula) at African and European Universities?
What can be learnt from the experiences of existing graduates and from the existing efforts at employability promotion at universities in Africa and Europe?
How can university employability promotion be developed in collaboration with partners outside universities in the private or public sector?
FOR MORE INFORMATION, DOWNLOAD THE CONFERENCE INFORMATION AND PROGRAMME HERE.
The event is funded by DAAD with financial support from the Federal Ministry of Economic Cooperation and Development (BMZ).