Text: Ghofrane Bounouh
The main purpose of The African Centre for Career Enhancement & Skills Support (ACCESS) is to develop new teaching methods to increase the chances of employability for African students. In this process, we work together with companies, universities and students. Our activities are focussed on four main pillars: employability research, capacity building, university-business-linkages (UBL), and entrepreneurship academy. In cooperation with our six African partner universities, we increase the opportunities for African students in the global labour market and connect them with companies that can benefit from their expertise. By using a roll-out approach with the direct university partners of ACCESS as anchors, it will be possible to reach 30 universities in the selected partner countries in total.
This article gives an overview of the most recent project and roll-out activities which have been carried out by our ACCESS partner in Tunisia, the University of Tunis, and their Team, in particular ACCESS board member Prof. Dr. Hamadi Tizaoui, and ACCESS project coordinators Dr. Maroua Chérif and Ghofrane Bounouh.
Is there a Future for the Green Architect in African Countries?
2022 has been a quite busy year for ACCESS; two summer schools were organised in Benin and Ghana in April and May, respectively. During the Ghana Summer School, Prof. Dorra Ismail delivered a presentation that sparked a heated debate among the 36 international participants about the prospects of green building in African countries and what kind of employability skills a young architect needs to develop to start a successful career.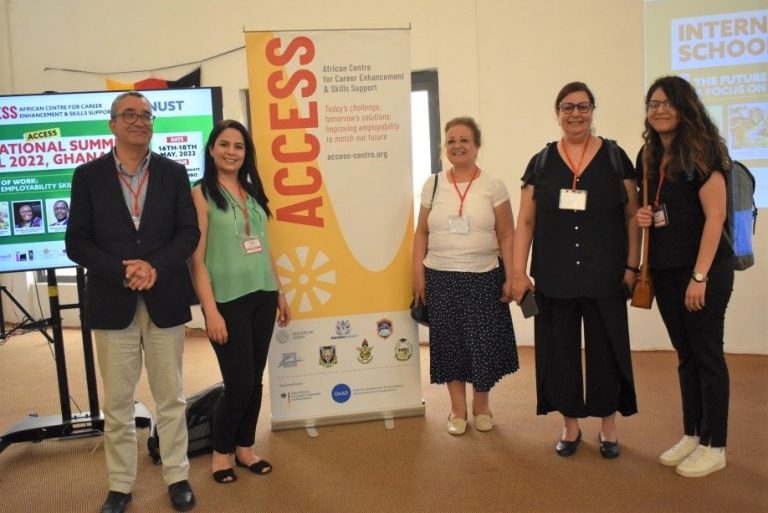 Better Late than Never!
Since our ACCESS Tunisia team could not attend the project meeting in Leipzig in February, a long-awaited personal meeting finally took place in October at Leipzig University. Prof. Dr. Hamadi Tizaoui and Ghofrane Bounouh joined the team in Leipzig for a fruitful five-day work trip that involved several academic and organisational meetings with the ACCESS coordinators from Leipzig University, along with a considerable amount of "Leipziger Lerche", a local delicious pastry.
Some Improvements Needed…
Thouraya Garraoui, Emna Saidi, and Nasser Msalem are the three Tunisian PhD students currently integrated in the Research Academy in Leipzig as part of the ACCESS research agenda on employability. Together with 11 other African PhD students, they are all determined to not only finish their theses in time, but to also learn how to speak German fluently by the end of the programme. According to the input they have provided during the latest colloquium in October in Leipzig, their research progress seems to be excellent… their German however, needs improvement!
United Nations Development Programme (UNDP) Collective Intelligence Workshop on Employability Skills
In June, Dr. Maroua Cherif and Ghofrane Bounouh were invited to attend a UNDP workshop that gathers job seekers and job providers in Tunisia to explore the issue of employment in Tunisia using a relational dynamics approach.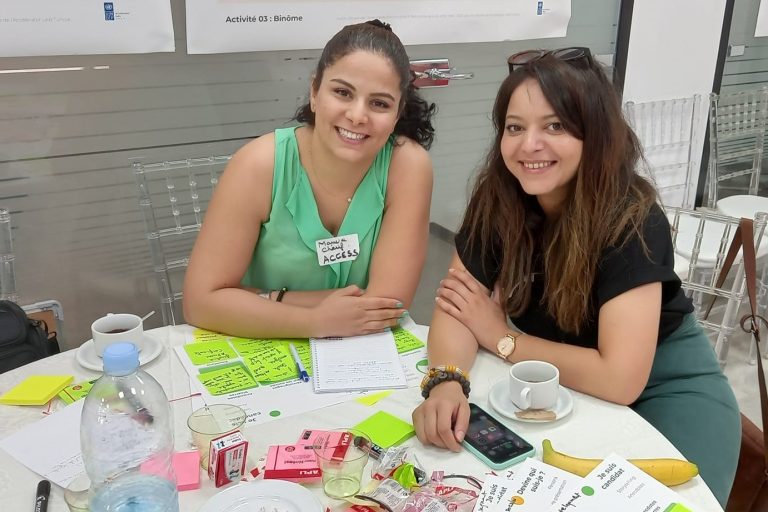 Supporting Big Ideas for Successful Future Projects
For over a year now, the ACCESS network has been supporting Dr. Hela Belkhiria in her endeavour to create a "Student Liaison Office" at the National Engineering School as one strategy to improve the employability of their graduates and to strengthen openness to the socio-economic environment. The process of establishing the office is ongoing and is the result of a rigorous online training guided by our UBL pillar coordinators in Leipzig on how to develop effective university-business-linkages.
A Year of Rollouts: ACCESS Tunisia in Numbers