Three ACCESS PhD Student Researchers have presented papers at the 4th Ghana Studies Association Conference,2022, in Ghana. The three days event took place on 18th -20th July at Tamale in Ghana, under the theme: "Ghana at Crossroads."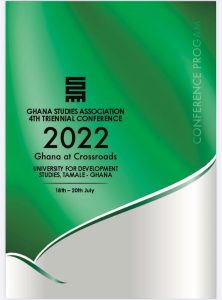 ACCESS PhD Students Emmanuel Agyemang, Temitope Faloye and Theophile Shiramunda had the following to report about their experience at the conference:
The Ghana Studies Association and the University for Development Studies, Tamale (Host) jointly organised the conference. It was a great opportunity for networking, research exchange, discussion, and dissemination. We presented the following three papers under the Panel Topic "Graduate employability in Africa: Prospects and challenges", which was part of the conference sub-theme: "Education, Training, and Employment."
Emmanuel Agyemang presented on "Getting a job in Ghana: Job search Perspectives among Graduates in the Ghanaian Labour Market."
Theophile Shyiramunda's paper was called "Reorienting practices in Higher Education: Discourse on Rwandan Graduates Experience at Labor Market", and Temitope Faloye discussed "Employers' Perspective on Female Graduate Employability in Nigeria."
We are grateful to DAAD, ACCESS, and the University of Leipzig for sponsoring this trip, and wish to point out that the conference has helped us in the following direction:
First and foremost, getting feedback on our ongoing thesis. The feedback we received after our presentations helped to shape our work. As such, we can anticipate the reviewers' comments when we try to get the paper published. There is no better way to get our papers in front of top experts in the field than at a conference, where an entire hall full of people freely assess the strengths and weaknesses of our papers.
In addition, meeting other people in the field. Getting to know other scholars in our area of specialization is one of the most valuable aspects of attending this conference. The conference provided an excellent chance for networking. Networking is crucial for reviewing, collaborating, and discussing similar academic interests. This travel helped us meet people at a similar stage in their careers.
Finally, improving our presentation and communication skills. Presentation and communication abilities are important in academics and research. This conference provided the platform to put these talents into practice. Through this conference and after presenting our papers, we learned how fast we should speak and how much information we should provide in our explanations. Answering questions and engaging with other guests after our presentations have helped improve our communication skills.
Once again, we wish to thank DAAD and ACCESS for making our participation in the conference a success